Gym mats or gym flooring should be your priority when you plan of setting up a home or commercial gym. Gym flooring protects you and your equipment from damage due to impact. Having the right flooring for your gym also improves the overall fitness experience.
The type of flooring or gym mats you require will depend on many factors. We will outline the types of gym flooring and gym mats to help you decide the best purchase that meets your need and preference.
Gym Mats
Exercise gym mats are different from gym flooring mats. They are individual mats used in yoga, pilates, or any individual exercises you can do at home or the gym. Whereas gym flooring mats are used to protect the gym floors from the impact that weights cause when dropped. The latter also helps in protecting gym-goers from unnecessary injuries. Its strong grip prevents the unintentional movement of equipment and machines.
Types Of Gym Mats
Choose the best exercise gym mat according to the purpose. Here are types of gym mats:
1. Yoga Mat
Toga mats are a thin exercise mat that is typically between 0.3 to 0.6 cm thickness. The yoga mat is the thinnest exercise mat making it easier to carry around by yogis. Although firmer yoga mats can push to around 1-inch thickness, generally, thinner yoga mats are preferred due to their portability and ease of storage.
There are different types of yoga mats to accommodate the changing styles and forms of yoga. For example, a standard yoga mat is mostly made of PVC and offers flexibility and grip. But you may want to choose an anti-slip towel-style surface yoga mat that absorbs sweat if you want to practice hot yoga. Yoga mats can also be made of biodegradable fibers such as hemp or cotton.
2. Pilates Mat
The pilates mat is slightly thicker than a yoga mat. Pilates requires one to roll on his or her back or tail bone so that mat used should be thick enough to support it. A pilates mat is typically 1/2 inch thick and is made of compact foam to provide cushion for sensitive body parts.
The closed-cell foam structure of pilates also makes it easier to clean. It also has an excellent grip.
3. Exercise Mat
Exercise mats are general purpose mats used for a wide variety of exercises. They often go from 1 to 3 inches depending on the needed amount of impact absorption. Exercise mats are thicker compared to a yoga mat or a pilates mat and are designed for high-intensity exercises. But these mats are not recommended for heavy exercise equipment or free weights.
There are three types of exercise mats made for different end-users:
Foam core with vinyl cover is durable and easy to clean. This type of exercise mat is easier to wipe clean and can withstand repeated use.
Thermoplastic Elastomer (TPE) exercise mats are the most eco-friendly material that can be recycled. Its elastic properties offer a soft and comfortable feel.
EVA foam exercise mats are lightweight and do not cost a pretty penny. But these mats may not be able to withstand abrasive use. You may also find that the surface easily tears against the rough soles.
4. Floor Protection Mat
Unlike other mats, floor protection mats are designed to stay in place and protect the floor underneath. They are permanently placed in an area designated for high-impact exercise. They are often constructed in "jigsaw style" and made of high-density EVA foam mats for shock-absorption and noise-reduction.
Floor protection mats are generally used for circuits, stretching, and functional exercises. However, these mats should not be confused with specialist rubber floor tiles, as these mats will not be able to resist weights being dropped.
How To Store Gym Mats?
You will want to make sure that you have the best gym mats for your members. This means ensuring your gym mats are maintained and kept at their best at all times by proper storage. Regardless of the size of your gym, a proper storage solution will help maintain the integrity of the mat and avoid injuries caused by poorly stored mats.
Rolling up exercise mats and securing them in place is the easiest method of storing them away for people on the go. But here are mat storage solutions to consider for gyms.
Exercise mat storage rack – is a cost-effective way of storing sports mats to keep your gym organized and tidy. It can typically hold more than 6 to 10 gym mats and can keep them flat and clean. This type of storage solution is better for gym mats with eyelets so they can be hung up easily on the rack.
Exercise mat basket – is an ideal storage solution for home gyms. It is aesthetically pleasing and is large enough to fit 3 to 5 exercise mats depending on the thickness of the mat.
Shelving units – great for small fitness studio. It can also store other gym essentials.
How To Choose A Gym Mat?
Purpose – focus on the purpose and the kinds of exercises you will do when selecting a mat whether it is yoga, pilates, or high-intensity workouts.
Size – a shorter sports mat is suitable for stretching, post-workout, or abs exercise, while longer mats are better for longer fitness routines such as yoga classes.
Thickness – a thicker mat can withstand more damage and has a longer shelf-life, while a thinner mat may be prone to tearing. However, the latter is preferred when it comes to portability and storage.
Material – a rubber mat last longer but has poor moisture absorption. It is also relatively heavier and is not ideal to carry around. A thermoplastic mat, on the other hand, is made of soft material and is suitable for all types of exercise but is costlier compared to other materials. Lastly, a PVC mat has the advantage when it comes to ease of cleaning but is not suitable for yoga.
Gym Flooring
The gym floor may be the most overlooked part of the gym but it should be the first thing you consider when opening your own gym. When choosing the right flooring for your gym, think about how you want to utilize the space. How big is the area? What equipment do you wish to place inside your gym? Do you need to allocate zones for different types of activities?
In this section of the article, we'll look at flooring options for your gym and determine which type works best for which type of gym.
Considerations When Choosing A Gym Flooring
Floor construction – find out the construction type of the floor to help you determine whether it requires preparation for laying. Is your gym floor made of concrete or wood? Identify areas with a higher risk for damage and may require a thicker underlay for better impact absorption.
Space – when figuring out the best flooring option for your space, it is not about the material itself but how fast and easy it is to install. For example, using gym flooring tiles in a large gym may become tedious to install as you need to put the tiles together one by one. Whereas, gym flooring rolls will require significantly less time and effort to install.
Traffic – a commercial gym will receive a higher volume of traffic depending on the number of gym members it receives daily. This means more wear and tear as shoes will scuff the surface of the flooring. If this is the case, we recommend choosing a durable gym flooring with a longer lifespan.
Moisture – one important feature consider for your gym flooring is its moisture resistance. Flooring that is not adequately resistant may lead to a bad smell and an overall unhygienic environment.
Machine – how many machines will you add to your gym? These machines will be pressed down on the flooring which increases its wear and tear. When considering the type of flooring, always choose durable, and long-lasting ones that can withstand the weight of a squat rack, bench press and so many more.
Weights – a good gym flooring is one that can absorb the shock of dropped weights such as kettlebells, dumbbells, or plates. The weights should not bounce back up and must keep the weight on the floor or else there is an increased chance of injury.
Criteria Of A Great Gym Flooring
Material
Visual impact – the right flooring can create an excellent first impression and complements the ambiance of the gym.
Resilience (shock absorbent) – safety is one important consideration. Gym floors with no shock absorption such as plastic tile may transfer the full force of an athlete's movement back to their joints and limbs. This adds extra stress to their body.
Performance (non-slip) – it should provide the user an optimal surface for the most intense workout and allow for quicker acceleration. Gym users can push their limits without fear of injury and the improved traction offered by good gym flooring will help do that.
Maintenance (hygienic) – with much gym-goers sweating, it can be hard to maintain a clean environment especially the flooring. Choose a gym floor that is easy to clean, and is bacteria or mold-resistant, thus easy to maintain and lasts longer.
Durability – gym flooring takes a lot of pressure from members, heavy machines, and exercise equipment. A strong and durable and long-lasting surface should have the ability to support the weight from the above-mentioned so there is no need to keep changing your flooring.
Thickness
There are different thickness in gym flooring and your selection will largely depend on the area of application. Thicker gym floors are generally better for zones designed for weights and machines. They are stronger and tougher, able to resist dropped weights without the fear of the weights bouncing back up.
How thick should gym flooring mats be?
1/4 Inch: Best for exercise machines rooms where there are treadmills and electrical machines.
8MM or 3/8 Inch: Best for light use weight rooms where weights between 50-75 lbs will be used regularly. This is the most popular thickness preferred by commercial gyms. Commonly found in
1/2 Inch: Best for moderate use weight rooms where weights over 100 lbs will be used but not deliberately dropped regularly.
3/4 Inch-Plus: Best for powerlifting rooms where weights over 100lbs will be used that is deliberately dropped regularly.
Noise and Vibration
Most workouts where weights are used often generate loud noise and vibration that may disturb other gym members. If you want your members to enjoy their gym sessions, you need to invest in noise reduction gym mats to help keep everyone's workouts quiet.
Also, gyms often take up various floors in commercial buildings may be located beside other business properties. The vibrations caused by energetic workout routines and the dropping of weights may also cause disturbance to neighbors.
Many noise-reducing mats can help reduce both noise and vibration that dropped weights produce. These gym floor mats can not only reduce sound but can also make your gym safer.
Costing
It's a fact that the higher quality of the material the higher the cost would be. In gym floor mats, thicker or higher density material that has better impact absorption and is long-lasting will cost more than lightweight materials. This also applies to the type of flooring. For example, floor tiles will cost more than flooring rolls. You'll also find that gym flooring that is designed to resist grease or chemical stains will cost more than standard premium flooring products.
There is a way to save money on gym floors. You can choose the quality according to the activity in specific areas of your gym. In low to moderate traffic areas you can choose lower-quality flooring. Where workouts are vigorous with weights are dropped regularly, you'll have to use better quality flooring.
Weigh the quality and cost against each other. Consider the value of the flooring based on its lifespan, how effectively it can protect both your equipment and members, you will realize that it is better to invest in more expensive but higher quality flooring.
Gym Flooring Styles
Rubber Floor Tiles
These are square rubber tiles that are installed one by one. These must be laid out by professionals since these need to be fastened to the floor. If not professionally done, the edges may not be accurately fastened and may show gaps and imperfections.
Flooring Rolls
Installing rubber flooring rolls takes lesser time and effort. These are often preferred by gym owners since there are fewer joins and make the surface look smoother. Fewer joins also mean less chance for edges to become loose and form gaps following usage.
Interlocking Floor Tiles
This is the most common gym floor styles that are installed by pushing the squares together like a jigsaw puzzle. These can be perfectly secured without the use of adhesives. But some thinner jigsaw puzzle flooring may be less secure as they often contract in different conditions and cause overlaps.
Gym Flooring Options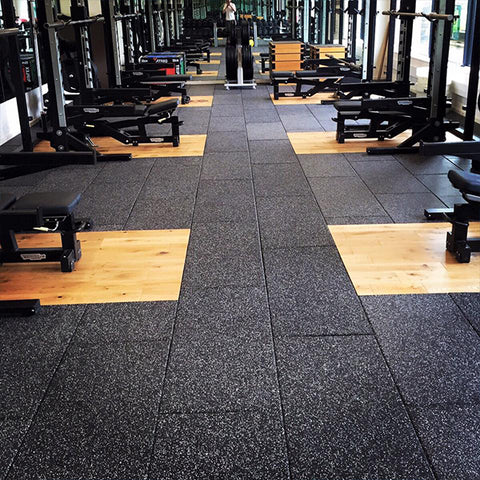 1. EVA foam
Ethylene Vinyl Acetate (EVA) is made of foam. It provides a comfortable cushion for a variety of floor-based exercises. It is a good option for a gym floor where weights will not be used.
Pros:
Naturally lightweight and easy to move around
Easy to find in local home improvement stores and is cost-effective
Eco-friendly since it does not contain any toxic substances
Water-proof, resistant to most stains, and requires very little maintenance
Dampens sound and provides good heat insulation for your gym floor
Cons:
Leaves permanent indentations when under any stationary weight
Doesn't have a firm foundation to stand on especially when lifting weights
Easily punctured or scratched
Inferior EVA foam products may bleed colors to flooring and subfloors
May fade in direct sunlight
Best Use:
Yoga
Bodyweight Exercises
Stretching
Lightweight Conditioning
2. Laminate Flooring
Laminate flooring is a hard-wearing material that is less likely to scratch. It's easy to clean and is made in layers for greater protection from wear and tear.
Pros:
Next to foam, it's a low-cost flooring option for the budget-conscious
Support high-traffic areas and different types of workout machines
Aesthetically pleasing with a variety of shades, colors, designs, and patterns
Easy to clean and requires little maintenance
Can withstand stains, dents, and scratches
Cons:
Does not cushion dropped weights on the floor
Without rubber underlayment, laminate flooring may tend to be noisy when walked on
Generally not a waterproof type of material.
Some laminate materials may not be eco-friendly
Shorter lifespan than hard floors
Best Use:
Yoga
Cardio Workouts
Calisthenics
Other lighter workouts
3. Concrete
Concrete floors are the most durable type of gym flooring. It is also the cheapest and simplest option with the least likely to be worn out by regular use.
Pros:
Durable
Cost-effective
Easy to improve with a coat
Doesn't scratch or dent
Best base for proper flooring
Cons:
Require a non-skid coating to provide traction for gymgoers
Tends to be noisy and produces an echo
Also lets off a lot of dust
Has no impact or shock absorption properties
Can easily chip when weights are dropped
Provides no cushion for knees or hands
Best Use:
It's a cheap flooring option but not suitable for a proper home or commercial gym.
4. Carpet
Using a carpet as a flooring option for gyms is uncommon because it is not as durable as rubber or concrete. It is also prone to damage and may give off a bad smell as most carpets are made of hazardous materials.
Pros:
Cheap flooring option
Available in many styles, patterns, and colors
Comfortable for light workouts
Cons:
Lacks durability and wears out quicker than other flooring options
Can be riddled with toxic molds and mildew because of its lack of water-resistant properties
Absorbs the bad smell and is unhygienic
Best Use:
Floor-based home workouts
5. Cork
Cork is an eco-friendly flooring option. It is made of renewable and biodegradable material. It is affordable and easy to find. It can be used in some areas of the gym that does not receive any pressure from machines or heavy equipment.
Pros:
Easy to find
Installation is super easy
Great to use as yoga blocks
Eco-friendly and is made from renewable materials
Cons:
Not durable; once torn it cannot be repaired
Does not cushion or absorb shock under heavy weights
Would require replacement often
Best Use:
High-impact, high-intensity workouts
Any other floor-based workouts
6. Wood
A hardwood floor is great but presents similar problems as concrete when it comes to handling the weight of machines. They are a little too hard with less shock absorption properties.
Pros:
Great looking flooring option with unlimited design options
Easy to clean and does not harbor germs that can be found with other types of flooring
Easy and quick to install
Durable for most fitness exercises
Cons:
A bit on the pricey side
Lacks durability and may splinter easily when you drop heavy weights on it
Offers little traction especially when it's wet
Can be damaged by water
Best Use:
Ballroom dancing
Kickboxing
Resistance training
8. Artificial Grass Turf
Artificial grass turf is an unconventional flooring option. It is easily accessible and appeals to the regular gymgoer as it adds a relaxed element to the gym's atmosphere.
Pros:
Has UV protection so it does not fade easily
Great for high impact workouts
High traction and sled resiliency
Easy to install and maintain
Absorbs noise and vibration
Cons:
Show lane lines where a sled is used
Can be abrasive when doing floor exercises
Heat absorbent and can be too hot to use
Requires special cleaning and maintenance
Best Use:
Crossfit exercises
HIIT workouts
Sled pulling/pushing
Speed and agility training
9. Rubber Flooring
Rubber flooring is often considered the most durable gym flooring available. It provides a slip-resistant, and shock-absorbent workout surface for gyms.
Pros:
Great durability
Can safely support heavy machines
Great cushion and shock absorbent
Quick and easy installation
Non-slip and great grip
Great water-resistance
Sound insulation
Cons:
Have a distinct odor at first
Slippery when it is wet
Difficult to maintain
Surface is easily scratched
Little temperature insulation
Best Use:
Suitable for any type of exercise/training
High-impact, high-intensity workouts
Workouts that use weight benches, machines, racks, and lifting platforms
10. PVC or Vinyl Tiles
Vinyl or PVC flooring is a lightweight and durable flooring option for gyms. They offer a level of elasticity to give a good bounce to the foot.
Pros:
Affordable
Easy installation
Durable
Shock and impact resistant
Low maintenance
Water-resistant surface
Cons:
Not as hard-wearing as rubber
Not sound-proof
Can emit high volatile organic compounds (VOC)
Prone to dents and scratches
Can be damaged under heavy weight
Best Use:
Volleyball, basketball, and other indoor sports
Crossfit exercises
HIIT workouts
Aerobics
So what is the best gym flooring solution
Whether you're weight lifting or doing burpees, your flooring should help you safely perform exercises, easy to install and maintain, sound-proof, and does not easily damage.
We would gladly help you find the exact flooring you need but first, we need to consider the different factors mentioned above. There is no one size fits all approach when it comes to the best flooring solution. The best one is the flooring that meets your needs.