Choosing the best gym flooring & mats: A comprehensive guide
Gym mats or gym flooring should be your priority when you plan of setting up a home or commercial gym. Gym flooring protects you and your equipment from damage due to impact. Having the right flooring for your gym also improves the overall fitness experience.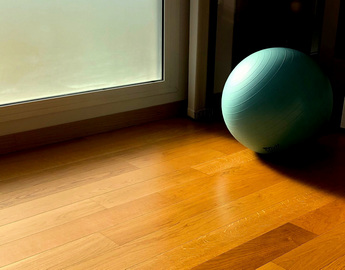 Are you looking to revamp your fitness facility or setting up a new gym? One of the most crucial aspects to consider is gym flooring. After all, it's the foundation of your workout space! In this comprehensive guide, we'll dive deep into gym flooring materials, types of gym mats, essential factors to consider, and proper maintenance techniques. Let's jump in and explore the ins and outs of gym flooring!
Understanding gym flooring materials
When it comes to gym flooring, there's no one-size-fits-all solution. Each material has its own set of advantages and drawbacks, depending on your specific needs and preferences. Let's break down the most popular gym flooring materials.
a. Rubber Gym Flooring
Rubber is a tried-and-true gym flooring material, thanks to its durability, slip-resistance, and impact-absorbing properties. It's a top choice for heavy weightlifting areas, functional training zones, and bustling commercial gyms.
Pros:
Durable and long-lasting
Slip-resistant
Sound and impact-absorbing
Cons:
Strong odor initially
May require additional subflooring for optimal performance
b. Foam Gym Flooring
Foam gym flooring, typically crafted from EVA (ethylene-vinyl acetate), is a lightweight and wallet-friendly option. It's a great fit for yoga, pilates, and low-impact activities.
Pros:
Lightweight and easy to install
Affordable
Available in various thicknesses and colors
Cons:
Less durable than rubber
Not ideal for heavy weightlifting
c. PVC Gym Flooring
PVC (polyvinyl chloride) gym flooring is a versatile and low-maintenance option for a wide range of fitness activities. It's perfect for group classes, dance studios, and multi-purpose areas.
Pros:
Water-resistant
Easy to clean and maintain
Available in a range of colors and patterns
Cons:
May not provide adequate cushioning for high-impact activities
Less environmentally friendly than other materials
Selecting the right gym mats for your activities
Now that we've covered the most common gym flooring materials, let's discuss the different types of gym mats and how to choose the right one for your specific activities.
a. Exercise Mats
Exercise mats offer a comfy surface for floor-based workouts like yoga, pilates, and stretching exercises. They're usually made from foam or PVC and come in different thicknesses and sizes.
b. Interlocking Tiles
Interlocking tiles, fashioned from rubber or foam, provide a customizable and modular flooring solution for your gym. These tiles can be easily assembled and disassembled, allowing you to create a tailored workout space that meets your unique needs.
c. Roll-Out Mats
Roll-out mats, made from rubber or PVC, are versatile and easy to install. They provide a seamless, uniform surface for various fitness activities and can be easily rolled up and stored when not in use.
d. Crash Pads
Crash pads are thick, high-density foam mats designed to absorb the impact from high-intensity activities like gymnastics, martial arts, and plyometric exercises. They offer superior protection and safety for users during rigorous workouts.
Essential factors to consider when choosing gym flooring
Now that we've covered the materials and types of gym mats, let's dive into the essential factors you should consider when selecting gym flooring for your fitness facility.
a. Durability and Lifespan
Choose gym flooring materials that can withstand the wear and tear of your fitness activities and last for an extended period. Rubber and PVC flooring are known for their durability, while foam flooring may need more frequent replacement.
b. Shock Absorption and Cushioning
Consider the impact and cushioning requirements of your fitness activities. High-impact exercises like weightlifting need flooring with excellent shock absorption, such as rubber. For low-impact activities like yoga, foam or PVC mats may suffice.
c. Slip Resistance
Choose gym flooring with adequate slip resistance to prevent accidents and ensure user safety. Rubber and PVC flooring generally offer good slip resistance, while foam tiles may be less slip-resistant.
d. Moisture Resistance
If your gym experiences high moisture levels, choose flooring materials that resist water and are easy to clean, such as rubber or PVC.
e. Installation and Maintenance
Consider the ease of installation and maintenance when selecting gym flooring. Interlocking tiles and roll-out mats are relatively easy to install and maintain, while adhesive-backed flooring may require professional installation.
How to properly maintain and clean gym mats and flooring
To ensure the longevity and performance of your gym flooring, it's crucial to maintain and clean it properly. Here are some best practices to follow:
a. Routine Cleaning
Regularly clean gym flooring to remove dirt, dust, and sweat. Use a vacuum or broom for dry debris, and a damp mop with a mild cleaning solution for wet cleaning. Avoid using harsh chemicals, as they may damage the flooring.
b. Deep Cleaning
Perform deep cleaning periodically to remove stubborn dirt and stains. Use a steam cleaner or a specialized gym floor cleaning machine for best results.
c. Repair and Replacement
Inspect gym flooring regularly for signs of wear and tear. Repair or replace damaged sections as needed to maintain a safe and visually appealing workout environment.
d. Preventative Measures
Implement preventative measures to prolong the life of your gym flooring. Use entrance mats to reduce the amount of dirt and moisture tracked into the gym, and provide designated weightlifting areas with additional flooring protection.
On a final note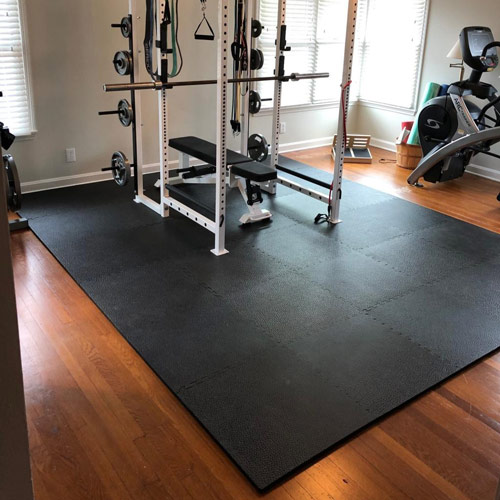 Selecting the perfect gym mats and flooring for your fitness facility is crucial for user safety, comfort, and overall workout experience. By understanding the different flooring materials, choosing the right gym mats for your activities, and considering essential factors like durability and slip resistance, you can create an optimal workout environment. Don't forget to properly maintain and clean your gym flooring to ensure its longevity and performance. With the right gym flooring in place, your fitness facility will be a welcoming and safe space for everyone to enjoy their workouts!