Guide on choosing the right balcony flooring for your home
There are many factors to consider when choosing a balcony or terrace flooring. The aesthetic appeal of the floor is important, but it should also be able to withstand the weather of the area.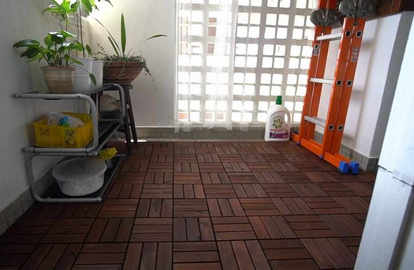 It would also be wise to consider whether you want your new flooring to cover your entire balcony or just a small part of it. If you're uncertain which type of flooring will work best with your balcony, this guide will help you find the perfect balcony flooring for your home.
Things to consider when choosing a balcony flooring
The first thing you need to do before purchasing a new balcony flooring is to identify what your requirements are regarding dimensions and appearance.
You also need to understand the material from which it will be constructed so that you can identify whether it will be resistant enough for outdoor use. Here is a list of things to consider before buying balcony flooring:
1. Climatic Conditions – some areas of the country are prone to extremes in weather. For example, your balcony may be exposed to all four seasons and varying temperatures throughout the year. In other climates, your balcony may be exposed to high levels of UV rays and harsh winds, or heavy rainfall with strong winds. Consider the weather conditions of your area when choosing outdoor flooring for your balcony.
2. Maintenance Requirements – while most wooden floors require little maintenance, some can become damaged if left out in the sun or humid conditions. If you're unsure about your ability to get your balcony flooring looking good as new, talk with experts to help you find something that requires minimal maintenance. They will also advise you on the best products for cleaning and maintaining your wood flooring.
3. Versatility – If you're hoping to use your wooden floors for a variety of uses throughout the year, make sure they're flexible enough to accommodate those changes in use. Many balcony floors are built to be extra wide (to cover or part of your balcony), but it's important that they can be used for a variety of uses throughout the year.
4. Color – Your flooring should be able to blend in with the color of your home and balcony, so make sure it's something you'll be happy to live with. There are many guides on what color floors go best with different types of houses, so look through this information before making your final decision.
5. Home Design – Sometimes you need to be a little creative to think about the look of your wooden flooring. There are several different design ideas on how you can add a special touch of character to your balcony with balcony flooring. You could even make your own patterned floor!
Balcony flooring options 
Replacing the flooring on your balcony is an easy and cheap way to add value to your home. It will make it look and feel more welcoming, and if you choose the right kind of quality balcony flooring, it will also be more durable. Some balcony flooring options are:
Carpet
Outdoor carpet tiles are a great alternative to hardwood floors, especially for balconies in apartments. It's soft under your feet and provides a comfortable and warm base on cold nights. It comes in a wide variety of colors, patterns, and styles to match any decor. The only downside is that it's not as durable as other options, so you'll have to replace it more often than other kinds of flooring. Also, carpets are fire hazards so if you're planning on installing them in an apartment building, be sure to check with the management first.
Hardwood
Hardwood floors are solid and durable but they are heavy and difficult to install. They can warp over time, especially if they get too much sunlight. You can't install hardwood directly on the balcony floor; you need to lay a thin layer of plywood or chipboard first. Then, you'll need to use a special adhesive to attach the hardwood to the plywood. The hardwood has to be high-quality and even an imperfection will show up after a few years.
Laminate
Laminate is a kind of wood imitation that's very popular in North America. It's a hard surface that looks like oak but it feels very soft. It comes in many different textures and colors, and with hundreds of different patterns. You can install laminate on a balcony without having to worry about warping, and it's very easy to replace. It's not as durable as real hardwood, but it doesn't cost as much either, so you won't have to spend much on repairs.
Tile
Tile is extremely durable and waterproof. It's easy to clean and it will never warp or crack like wood flooring can. You can use tile for large areas or small ones; ceramic, stone, and glass tiles are all good for balconies. The choice of tile will depend on what look you want to achieve, and on whether you can put up with the weight.
Slate
Slate is a special kind of stone that's commonly used for flooring in England and Northern Europe. It comes in a wide range of colors and styles, so it matches many different types of decor. You can buy pre-cut slabs or broken pieces to do it yourself at home.
Linoleum
Linoleum is a cheap kind of flooring that has a non-slip surface. It's lightweight and easy to install, and it's waterproof. It's not very durable, but it will last you years at least. You can expect to replace it every couple of years as you'd normally do with laminate or hardwood floors.
Vinyl
Vinyl is a cheap alternative to vinyl flooring that can be found on the market in different patterns and styles of tile or paneling. It's not as durable as hardwood, but it's much cheaper. You can expect to replace it every two years as you usually would with laminate or hardwood floors.
Terrazzo
Terrazzo is a composite marble-like material consisting of cement and marble chips or other minerals. It is very hard and is available in a variety of colors and patterns, making it ideal for creating an elegant look on your balcony.
Bamboo
Bamboo is a new alternative in balcony flooring, and it's eco-friendly and long-lasting. The bamboo can be natural or dyed black or white for that all-encompassing look of classic wood. It comes in rolls or tiles and can be installed with adhesive pads included in the kit, allowing you to install it yourself.
Rubber Tile
Using rubber flooring on the balcony is a great way to keep your balcony safe and clean. Rubber is extremely durable, weather-resistant, and easy to maintain. It will also prevent slips on wet or icy surfaces. You can buy it in sheets or as tiles, and you can easily change the style of your patio by choosing different colors.
Which balcony flooring option is best for your home?
To help with your selection, here are a few questions to ask yourself when shopping for balcony flooring:
Do I have pets? If so, are they destructive or prone to scratching furniture? This could dictate the type of material you choose.
Do I have babies or children? If so, you'll want to use a material that's soft and non-slip. You also will want to ensure that it can be cleaned easily.
What is my budget? This will help determine what kind of material you get. While vinyl is the cheapest, it may not offer the look you're looking for.
For example, Terrazzo is more expensive, but it generally lasts many years longer than other balcony flooring options. Laminate is the most expensive, but it offers additional durability.
When purchasing balcony flooring, you will want to make sure that the type is compatible with your needs and home.
It's important that before you choose a flooring option, you first decide what it will be used for. Bigger balconies should be fitted with carpet and smaller ones with vinyl flooring. This will make it easier to clean and care for the balcony, and ensure that it stays in good condition.
Without proper maintenance, a balcony floor can get damaged quickly. If you use it for recreational purposes, such as using it as a sunbathing area or a play area for children, you'll need to make sure that the surface is soft and padded. You could install carpet on your balcony to achieve this effect.
Balcony flooring installation (wood or laminate)
1. First, remove the existing balcony flooring. This may involve removing drywall or other pre-existing balconies. If the wood is in poor condition, you'll want to replace it with plywood or chipboard before installing new hardwood.
2. Next you'll need to install a moisture barrier (such as a vapor barrier) under the plywood for protection against water damage and mold growth from below ground level moisture. You can install this as an additional layer of plywood, or put down a moisture barrier over the top of your existing flooring and then lay down another layer of plywood on top of that for extra protection against water damage and mold growth from below ground level moisture).
3. In most cases, you'll be required to install a vapor barrier under your hardwood or laminate balcony flooring. You must install this at least 2 inches above the floor, and it should be attached through the ceiling to prevent moisture from getting into your attic.
4. Cover the floor with an anti-skid pad. Then you can lay down your new wood or laminate balcony flooring material, which will provide a nice, soft surface on which to relax on warm summer evenings.
5. Finally, you should use a sealer on the floor for added protection.
If you're planning to add more than one layer of hardwood or plywood, make sure that you prepare ahead of time. This will ensure that you can complete the job quickly and efficiently. Lay out your material in advance so you can visualize how it will fit together, and measure your balcony to make sure it's the right size (so your wood is not wasted). You may want to draw up a design plan as well.
When laying out your wood, make sure that you use miter joints and tongue and groove joints. These are the strongest and most durable joints available. When using tongue and groove joints, be sure that you don't make any of the boards too wide (so they won't lift up from each other). Keep them to a width of 3/4-inch or less. If you increase this width, the planks will not fit together properly.
To ensure that your wood can be reused many times, you'll want to cut it perfectly. You need to do this with a miter saw to make sure that the edge of the board fits perfectly between the miter joints.
The first thing you'll need to do is seal your wood. This will prevent moisture or water from getting underneath the boards, and protect them from mold and bacterial growth.
First, use a dust mask and goggles (if possible) to prevent breathing dust during installation. Then, start from one corner and work your way across the floor in rows. Apply a coating of sealer to each side of each piece of wood, and then put them in place on the balcony. You'll need to ensure that they are completely level at this point.
After all the wood is in place, you can wipe up any extra residue from the floor and then move onto the next step. Then it's time for priming. Use a primer designed specifically for wood to make sure that the color is exactly as you want it to be.
Then you can go ahead and paint your floor with high-quality semi-gloss latex paint. Be sure to wait until all the primer has dried completely before painting.
Lastly, once you have painted the floor, apply at least two coats of topcoat sealant. This will help keep the paint in place and protect it from discoloring or chipping.
How to make your balcony more attractive?
Many people have balconies in their homes, but many of them don't use these areas to their fullest potential. A balcony is a great place to relax and enjoy the fresh air, away from the noise and pollution of the city. Here are some ideas on how to make your balcony more inviting:
Add a plant box – Perhaps you have been interested in growing herbs or vegetables but don't have anywhere to keep them. A plant box attached to the side of your building can store herbs and fresh vegetables for when you need them. You can add a water system for plants or some herbs and make your balcony look like an outdoor room.
Add a mulched or gravel-filled container – If your balcony is on the sunny side of your home, you might be able to use it as a small garden. You can fill a large plastic container or bucket with gravel, and plant small flowers and herbs in it. The gravel will retain moisture and keep the plants healthy. It's also pretty enough that you can have a nice centerpiece on your balcony.
Paint your railing – If you have an ugly metal or wooden railing, you can paint it to make it look better. Painting a railing is easy; just be sure that it's well-ventilated so you don't inhale the fumes. You can paint it to match your apartment or to go with your other furnishings.
Add some outdoor decor – Outdoor lights and decorations are a great addition to your balcony. If you have an apartment, you might want to add some fairy lights or hanging metal decorations shaped like stars or moons. Add some flowered curtains and cushions for extra comfort.
Build a nice table – Building your own balcony table is easy, and it gives you more room for entertaining guests or just relaxing outside. You can build a simple table from bricks and wood or something fancier. Just make sure that it looks nice on your balcony and you don't get sick from putting furniture on your balcony.
Final thoughts
When you're choosing a material for your balcony flooring, it's important to think about what function space will serve. If you plan to use your balcony as an outdoor room, then choose a soft and comfortable material such as carpet.
If you want it for recreational purposes, such as sunbathing or playing with children, then vinyl flooring would be best. Laminate is popular for decorative purposes or to use as a sun lounger.
If you want it to be used as part of your patio, then you'll want to choose something that can hold up well in the elements such as tile or wood. Your balcony will also need a hard surface on which to stand such as wooden boards and floor tiles.
If you have a bigger balcony, then you might consider installing a pergola also known as a deck overhang. It will make your balcony look larger and more inviting.
A balcony is a great addition to your home, and you'll get a lot of use out of it. With the right materials, you'll have everything you need to have an outdoor room that's comfortable and uses the space in an interesting way. If you already have a balcony in your home, then it's time for you to think about upgrading it with the right materials.
Start by getting rid of any old flooring that may be damaged or worn out. Then, you'll be able to consider installing new quality flooring to give your balcony a bright, colorful look.