Best flooring ideas for basement in 2022
If you want to give your basement floor a quick and easy makeover without expert knowledge, we've got the best basement flooring ideas for you. Here we'll give you some tips and guidelines to help determine the best type of flooring for your basement, and how to successfully install it.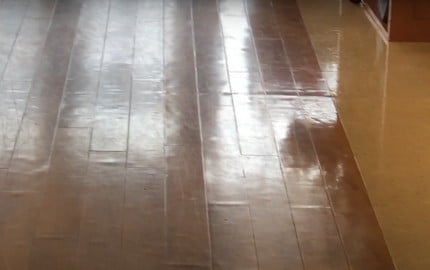 What kind of flooring would you like for your basement? This is a question that can be a challenge to answer. If you're renovating a basement, then the possibilities are even more endless. Here we have a few of the most popular ideas for basement flooring.
# How to choose basement flooring?
How will you use your basement space?
Decide first how you intend to use your basement before you start choosing from a myriad option for basement floors. Basements can be extra living spaces to serve as a playroom, family room, theater room, home gym, office, or guest bedroom.
Once you determine what you will use it for then you can decide the best basement flooring accordingly.
If it's for a guest bedroom then cork flooring or carpet tiles may be more suitable since they are comfortable and soft underfoot compared to concrete flooring or cement floor.
What's your budget?
The cost of any type of flooring is the first thing you'll need to know, and this should be determined before beginning, whether it's for an entire renovation or just an addition.
What color or style would you like?
After you've determined your budget, the next step is deciding on the look you want from a range of colors or designs. This can be accomplished by simply choosing a style of tile or other material, or you can go to a store and see actual samples.
How will you install the flooring?
A professional can install your new basement flooring with very little difficulty and is recommended. But the cost of professional installation and the ease of installation process will be a factor in your final decision.
What's under the flooring? Will you need to change it?
This is something that you may consider if you aren't doing a complete renovation. If you plan on adding new carpet squares or tile, this may not be an issue.
# Basement flooring ideas
What kind of flooring would you like for your basement? This is a question that can be a challenge to answer. If you're renovating a basement, then the possibilities are even more endless. Here we have a few of the most popular ideas for basement flooring.
Concrete Floor
Basements are naturally damp and cool, which means concrete can be an excellent choice as a basement flooring option. A concrete floor is also low maintenance and is considered a very durable surface. Concrete flooring can be left unfinished for a country look. It is also available in decorative tiles for a more stylish look.
Concrete flooring costs around $2 to $6 per square foot for a basic design. Depending on the length, width, and design this type of flooring can cost higher and so becomes an expensive choice.
Laminate Floor
This is another popular option for basement flooring because it's so affordable. Laminate flooring comes in a wide range of styles, colors, and designs.
Laminate flooring for basements can cost around $8 to $15 per square foot for both labor and materials. For the flooring material alone, you can expect to pay between $2 to $6 per square foot.
Vinyl Floor
Vinyl plank is a type of flooring that is also very popular. You can choose from a large selection of colors and textures to match your decor. Luxury vinyl flooring also has the benefit of being extra quiet, making it a good choice if you're trying to create a playroom for your children. Expect to pay around $1.50 and $6 for vinyl basement flooring.
Cement Floor
This is another great choice for basement flooring since concrete can be quite expensive to purchase and maintain. The cement board will not expand and contract like concrete and can be glued to any of the above flooring options for a more customized look. Cement flooring is priced around $2 to $6 per square foot.
Carpet Floor
Carpet can be used as an addition to your basement flooring, especially if you are looking for something more sophisticated than vinyl. The possibilities with this type of flooring are endless, and it really adds a beautiful look to any basement. Carpet flooring can cost between $3.50 to $11 per square foot.
Ceramic Tiles Floor
Ceramic tiles are perfect for basement flooring. You can choose from a wide variety of colors, patterns, and styles when you choose ceramic tiles. It is also very affordable and it is also very durable since it is very strong and resistant to damage. Ceramic tiles are also very easy to install yourself and costs around $0.50 to $35 per square foot.
Hardwood Floor
If you like the look of real wood, then you should install hardwood flooring in your basement. They will look great and last for years to come. Although solid wood flooring can be a more expensive option than basement flooring option at around $6 and $12, then again hardwood will last functionally for centuries.
Engineered Wood Floor
The engineered wood is one of the best choices for basement flooring, especially if you are looking for an economical option than real wood. If it's not the look you are going for, then this could be a great choice because it's very versatile. Unlike solid hardwood flooring, this type of flooring costs around $3 to $5 per square foot.
Cork Floor
Cork is another good option for basement flooring. It's very comfortable to walk on and tends to be very durable. Cork will also insulate your basement floor, which can save you some electricity. The price of a cork floor can range from $3 to $12 per square foot.
Rubber Floor
This is another good choice for basement flooring. Rubber floors have some great decorative options, it is very inexpensive, and it's very durable. It can actually be glued to any of the options listed above for a more customized look. Rubber tiles cost about $10 per square foot total or around $2 per square foot for installation alone.
# How to install basement flooring?
Step 1 – Preparation
The first step in installing your basement flooring is to plan. This includes knowing how much material you'll need, where the outlet boxes are located, and any other preliminary work. Step
Step 2 – Cutting
After you've finished planning, you need to cut your material. Make sure all the edges are tight, and that the cuts are level. A solid basement flooring job will start with careful measuring and cutting; simply cutting on some scrap will not produce quality work.
Step 3 – Install the Underlayment
Installing a solid underlayment is a critical step in your basement flooring installation. This will create a "buffer" between the concrete and the flooring material. It allows the flooring material to have proper adhesion to the floor, with no chance of it delaminating. This is mainly done by troweling on a layer of underlayment, which will also provide insulation to your basement floor.
Step 4 – Install the Flooring Material
The final step in installing your basement flooring is installing the material. This is a very simple process as long as you have done your planning and preparation. The main task is to install the flooring material and make sure it is level. If you did not install an underlayment, then you will at least want to make sure the flooring material is properly matted down.
Step 5 – Maintenance
Just like any other type of flooring, the maintenance is very simple. If you use carpet, you'll want to vacuum it often. You can also use the household cleaning products that you would normally use in your home's other rooms.
# Final thoughts
By properly planning your basement flooring, you will be able to create a beautiful and functional space for you and your family. There are many options and flooring types that are very affordable, fairly easy to install, and long-lasting.
The possibilities are endless when you're choosing what type of flooring you want for your basement. The most important thing is to plan it all out carefully and consider all factors before making a final decision on the choice of flooring for your basement.
Always do a little research to find the most effective solution and affordable flooring option for your needs. Basement flooring is a great investment that will last for many years.