11 Best flooring ideas for bedroom in 2022
Many people dream of a bedroom that has a floor that is both cozy and inviting. Not only does this give your living space a homey feeling, but it also allows for more furniture to be stored. If you're going to make the bedroom of your dreams, here are some ideas of what you can do with your flooring.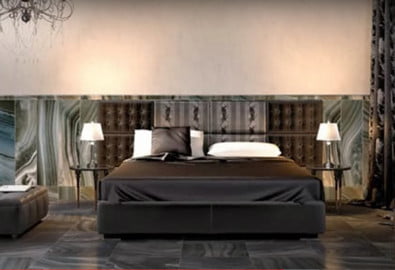 But before we dive into some of the popular flooring options for bedrooms, let us cover the factors you'd need to think about before making your choice.
What to consider when choosing a bedroom flooring type?
If you're in the process of choosing a bedroom floor and want to narrow down your options, consider the following factors to help you select the perfect bedroom flooring idea.
Traffic flow
Normally, a master bedroom expects low foot traffic since it's a private space. However, if you have a busy lifestyle or a family with a lot of kids going in and out of your bedroom, you might want to choose a floor that can withstand a high amount of traffic. There are different types of bedroom flooring that are ideal for high-foot traffic such as hardwood floor, luxury vinyl tile, and laminate flooring.
Durability
Flooring, in truth, is a huge expense so one should be able to last for a long while despite the daily wear and tear it is regularly under. But then again, it will depend on how busy your bedroom will be day-in and day-out.
If you have children or pets that may often occupy your bedroom then a highly durable flooring option would be great for you. You will want to make sure your bedroom floor can handle extra scuffing and damage for as long as possible.
Room size
Oftentimes, the size of bedrooms is not considered a huge concern by most homeowners when choosing a bedroom flooring. However, a huge room with poor quality flooring may require regular replacement or maintenance which in itself may cost you a lot over time because of the sheer size of the room. The room size will also be an important consideration when it comes to choosing a bedroom style and color options.
Color and style
The way you style and the array of colors you choose for your bedroom floor can have a significant impact on the room's atmosphere. Light colors such as yellow or white flooring tend to give its occupants a happier, open, and fun feel, while dark colors give out a luxurious and classic feel. Color options also determine and narrow down the type of flooring you can choose from.
Budget
Let's not forget the cost of flooring materials. Your budget will help you decide on bedroom flooring ideas available to you. If you're looking for cheap floor choices for your bedroom then that means you'd have to eliminate solid hardwood flooring as this type of floor is one of the most expensive choices for a floor since it's genuine hardwood. Other than the flooring product material, you'd also have to consider the cost of professional installation when you're on a tight budget.
Maintenance
It is also necessary to factor in the amount of time and effort you're willing to put into maintaining your bedroom floor. If you want to spend as little time as possible cleaning your bedroom floors then choose a low-maintenance flooring option. Popular choices for people who are averse to regular cleaning would be a wooden floor, vinyl, and carpet tiles.
Here are 11 bedroom flooring ideas
There are many bedroom flooring options that you can choose from provided you were able to determine your ideal choice for a master bedroom when it comes to the factors mentioned above. For example, if you're looking for high quality, durable, made with eco-friendly material yet one that is affordable you'd have to go through the following types of flooring one by one.
Rubber Flooring
One of the most cost-effective and eco-friendly flooring types you can choose from is rubber. It's also very durable and perfect for heavy-duty traffic. Rubber flooring materials cost between $1 and $15 per square foot, while installation cost falls around $1 to $2 per square foot.
Cork Flooring
Cork floors have been on the rise in popularity lately. Made of non toxic materials, it is both eco-friendly and has a great sound-deadening effect. Cork flooring comes in many different types, sizes, and colors. Cracks in cork floors are not uncommon but can be easily fixed with the right products. The price of cork flooring may range from $3 to $12 per square foot. Its installation cost starts between $6 to $9 per square foot.
Ceramic Tile
Ceramic tile flooring is a great choice for home or office owners. Its porous quality makes it easy to clean while its natural coloring has an earthy look that will complement any style. It's also lightweight and can endure almost any foot traffic. A ceramic tile flooring ranges from $15 to $20 per square foot for materials and installation.
Solid Wood
This is a natural material that has medium to high quality. Wood flooring for bedroom is versatile, has a classic look, and is very easy to maintain. It can be bought in different types depending on your flooring requirements. Many solid wood floors nowadays are environmentally friendly too.
Depending on the wood selection, the cost of solid wood floors can average between $3 and $7 per square foot. Installation is priced around $6 to $12 per square foot. Of course, there are types of wood flooring that are more expensive especially those made from exotic wood.
Stone Flooring
Stone is one of the oldest flooring options that has been used for years and years. It's very durable and can withstand heavy traffic while its rich and earthy look gives off an inviting feel to the bedroom.
Although stone flooring is not known for its comforting warmth underfoot, it's a unique bedroom flooring choice and can be much improved by laying down carpet squares. Its material costs $2 to $10 per square foot while installation may add $5 to $13 additional cost per square foot.
Bamboo Flooring
Bamboo floors have been gaining popularity in recent years. It's a stylish wood alternative made from fast-growing, renewable bamboo. It's a beautiful flooring solution that's both eco-friendly and durable. The average cost per square for bamboo flooring is $5 to $7 and installation adds around $4 per square foot. 
Carpet Flooring
Carpet floors are ideal for bedrooms and other rooms that require heavy foot traffic. They're durable and can withstand years of wear and tear. They also come in a variety of carpet color choices and styles so you can now personalize your bedroom flooring choices.
Wool carpet in bedrooms, for example, is a great option for bedroom floors because of its softness and durability. Its average cost ranges from $3 to $11 per square foot for materials and between $9 to $20 per square foot installation.
Laminate Flooring
This type of flooring is also becoming increasingly popular among homeowners. They are easy to clean and maintain while they look beautiful. They also come in many different styles, shapes, and colors so you can customize your bedroom floor plan. Laminate floors range between $3 to $7 per square foot.
Linoleum Flooring
Linoleum is an inexpensive and easy-to-maintain flooring option. It's often used in kitchens because it is a very durable and resilient flooring material. It goes to say that this type of flooring is nearly indestructible if installed in generally low traffic and low impact space such as a bedroom. It costs around $5 to $7 per square foot and the average professional installation can run $4 to $5 per square foot.
Concrete Flooring
Concrete floors are durable, practical, and contemporary. They can be installed over concrete or wooden subfloors. Concrete is an affordable flooring option that costs $2 to $6 per square foot. Professional installation adds around $4 to $7 per square foot.
Vinyl Flooring
Vinyl flooring is cheap and easy to install. It has a contemporary look and is popular because of its low maintenance, easy cleanability, and long-lasting durability. Depending on the material type, vinyl floors range from $3 to $10 per square foot.
Final thoughts
The bedroom is a space that is often neglected. In some homes, bedrooms may even be worse than bathrooms. That's why it's important to find the perfect flooring option for your bedroom.
Different bedroom flooring styles offer different benefits, which you can use to make the best choice for your bedroom.