Obtain High Quality Vinyl Plank Flooring With These Underlayments
Floor quality plays a significant role in your home's structural integrity. Plus, it contributes to the aesthetics of the interior and affects your safety as you move around the house. With the right underlayment material, you can achieve the stylish and stable flooring you want. But are you overwhelmed with all your options?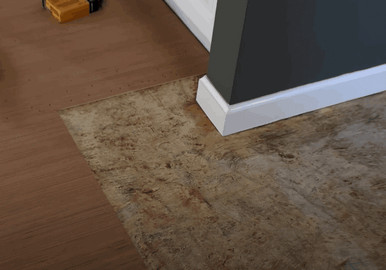 In this post, we'll discuss everything you need to know about this aspect of your home. And we have reviewed different products to help you choose the best underlayment for vinyl plank flooring to suit your needs.
# Our Top Pick for The Best Underlayment for Vinyl Plank Flooring
Now that you're more familiar with underlayment, especially its best features, installation, ideal thickness, and types, it is time to browse some top-rated products. We've created a shortlist of products here and base our reviews on how well they measure up to underlayment standards.
However, a number of users also say there are slight shifts during install which makes it challenging for those who do not have experience with installation. Some reviewers also commented on uneven cuts and inconsistent quality of the rolls in a batch. Considering these comments, users might need to purchase more to ensure the floor's coverage.
| | |
| --- | --- |
| Pros | Cons |
| + Affordability | – Slightly shifts during install, which might be challenging for newbies |
| + Standard rating for sound insulation | – Gives off a slight odor |
| + Easy to install | – Some rolls aren't continuous, which means you might need to tape multiple rolls together if you're working in a larger space |
| + Comes with built-in adhesive strips | – The adhesive lines were not straight |
| + Resistant to mildew and moisture | – Uneven cuts |
| + Comes with a plastic film, making it more effective in blocking moisture | – Uneven quality of the rolls in a batch |
| + Compatible with engineered wood, laminate, vinyl, and hardwood | – Doesn't have a grid pattern |
| + Could be installed over concrete and all wooden subfloors | – There were some areas without adhesives |
| + Soft and quiet, which makes it ideal for the bedroom | |
| + Offers great vapor barrier, cushioning, and noise reduction | |
| + Light packaging | |
Some users gave it a high rating and said they will recommend this underlayment as it comes with a plastic overlap and self-sealing adhesive which ensures it is waterproof. It is also significantly cheaper than any other products on this list. Some users even claim that it is way cheaper than Home Depot or Lowe's.
While most users find it easy to install, some people find installation issues similar with Floorlot Flooring, that is with the underlayment slightly shifting.
| | |
| --- | --- |
| Pros | Cons |
| + A universal underlayment, making it ideal for all subfloor types, including cement and wood | – Slightly shifts during install, which might be challenging to install for newbies |
| + It could also be used for different flooring materials, such as vinyl, bamboo, concrete slab, wood floors, and engineered hardwood | – The plastic edge wasn't wide enough, making it challenging to bind one edge to another |
| + Significantly cheaper than any other products on the market | – Some rolls aren't continuous, which means you might need to tape multiple rolls together if you're working in a larger space |
| + Easy to install | |
| + Offers good cushioning | – Requires the use of additional tapes to ensure the edges won't budge |
| + Has a built-in tape edge | |
| + Excellent adhesion | |
| + No accidental tears | |
| + Not bulky | |
| + Cushy | |
It has a rating of 67 from the Impact Sound Transmission Test (IIC), which means it's great at minimizing the noise of footsteps and moving furniture. Its 3-inch allowance for overlap and built-in 1 ¾-inch adhesive strip allows a better linking of rolls that ensures better protection against molds and mildews.
Many professional flooring contractors commend it for its simple application. Unlike the previous underlayment, this stays put when down and the seams were so easy to join with the built-in adhesive strip. All these means it is easier for DIY'ers to install.
However, there are conflicting opinions when it comes to its heavier felt material. Some users with no experience to flooring had a hard time cutting through the underlayment, while some liked the heavy-duty underlay and knew to purchase a nice set of fisk scissors for the task.
| | |
| --- | --- |
| Pros | Cons |
| + Suitable for laminate, vinyl, and engineered wood flooring | – With its 4mm thickness, the material is tough to cut |
| + Offers ample cushioning for wood and concrete subfloors | – Leaves a yellowish residue on the hands and feet after installation |
| + Easy to install | |
| + Has good vapor barrier | |
| + Eco-friendly | |
| + Has a rating of 66 from its Sound Transmission Loss Test (STC), which means it can absorb noises from people and TV effectively | |
| + Gives a deep, rich sound due to its felt material | |
Many users found this underlayment as more affordable than others in this list and even in big box stores. Its 3 mm thick padding and closed foam technology offer ample cushioning which means it has effective sound insulation. People found the overlap film and built-in self-adhesive strips very handy and easy to install.
However, several people complained about its poor packaging. Other reviews mention that the package arrived melted on the edges. Some also claim that the product was rolled up very tight that it was harder to lay flat or run straight and required a lot of effort. They also warn about possible tearing when unrolling and peeling the product that stuck together, which means users have to peel it carefully.
Other than the packaging issues (brought on by someone got overzealous on the heat gun), Amerique turns out to be a satisfactory buy for most users especially when it comes to insulation, sound reduction, moisture protection, and affordability.
Pros

Cons

+ Has an overlap film and built-in self-adhesive strips, making it easy to install
– Poor shipping and delivery quality control
+ Non-allergenic, which makes it a great choice to uphold your family's health
– Material has the tendency to get stuck to each other, making it difficult to unroll
+ Has an anti-crush technology, which makes it last longer than other materials
– Very fragile
+ 3mm thick, which offers ample cushioning
– Can't stick to concrete effectively, calling the need for duct tape
+ Has a closed foam technology for more effective sound reduction
– Comes in a very tight pack, which requires extra effort to unroll
+ Suitable with laminate floors, bamboo, vinyl, floating floors, and wood
– The rolls aren't straight and a bit wavy, making it challenging to set up
+ More affordable than other sellers and other items at big box stores
Crisp edges
+ Adhesive strips were strong
+ Offers ample protection against mold, vapor, moisture, and mildew
This is a very environmentally friendly underlayment which means it is safe for a home with kids and pets. The one thing that really made this underlayment stand out for many people is it comes in sheets rather than rolls which makes it easier to lay flat and straight.
There were also a lot of positive comments about its high Delta IIC rating of 25, the highest in this list. The IIC rating means it is effective in noise reduction such as muffling the sounds of someone walking. This also makes the underlayment a neighbor friendly one, especially when you live on the top-floor of a condominium.
On the downside, a few people said that it is easily damaged if not carefully handled. It is also not suitable to lay over concrete slabs unless you are open to adding another moisture barrier in between the concrete slab and the underlayment.
Several people also agreed that this was an excellent underlayment for compensating minor unevenness in the concrete parts of the floor. As one of the highest-priced products on this list, most people thought it was well worth the cost considering the quality.
| | |
| --- | --- |
| Pros | Cons |
| + 100% natural and recyclable | – Easily damaged |
| + It has the highest Delta IIC rating (25) | – Not suitable to lay over a concrete slab and will require a moisture barrier. |
| + Comes in flat sheets rather than rolls | – Most expensive on this list |
| + Easy and quick to install | – The product has to be laid at a 45 degree angle of the floor panels which is time-consuming. |
| + Superior noise reduction | |
| + No VOCs, formaldehyde and toxic emissions | |
| + Made of breathable material | |
| + Can absorb excess moisture that minimizes growth of mold and mildew. | |
| + Suitable for floating or nail down types of installation. | |
# Conclusion
Many reviewers can attest to these products being cheaper than the ones at the nearest big box stores. Plus, these products have all the basic features (e.g., sound absorption, cushioning, moisture & vapor protection, thermal insulation) of the best underlayment for vinyl plank flooring. However, each product has unique characteristics, which may be what you're looking for on top of the basic features.
Floorlot shop 200sqft 3 mm Laminate Flooring Vapor Barrier Underlayment – All the basic underlayment features plus ease of installment at a mid-range price.
3in1 Vapor Barrier Flooring Underlayment – Well-loved for its universality of use with different subfloor and flooring materials at the most affordable price.
Roberts – The eco-friendly choice plus all the basic underlayment features.
Amerique 691322306255 Premium 3-In-1 Heavy Duty Foam – The healthier choice with its non-allergenic material plus the basic underlayment features (e.g., sound absorption, thermal insulation).
Steico 3mm Wood Fiber Flooring Underlayment for Laminate Vinyl – Has all the basics of the best underlayment features plus it comes in sheets which makes installation easy.
However, if you really have to choose between all these products, it would be practical to consider your health above everything else and choose either Steico or Amerique. These two products have all the features of the best underlayment for vinyl floor plank, but with the added non-allergenic and antimicrobial features.
# Everything you need to know when looking for underlayment for vinyl plank flooring
Choosing your underlayment carefully helps you avoid costly repairs and maintenance in the future. So, when shopping for one, these are the key insights to keep in mind:
What are the types of underlayment?
Underlayment comes in different types to suit a variety of purposes and usage. The following are the common types on the market today:
Rubber – This is a versatile material that provides ample moisture, mold, and mildew protection. Plus, it's also a great insulator and sound absorber, which is beneficial if you like to maintain a quiet indoor with a comfortable temperature.
Cement Board – This material is well-loved for its mold-resistance and smooth texture. It's also easy to cut.
Plywood – This underlayment type is known for its strength and water-resistant properties. However, it's not so good at handling uneven weight. If you really want this material, make sure to opt for the marine-grade one, which is stronger than the normal plywood.
Felt – This material is a perfect fit if you're looking for an eco-friendly option. Made from recycled fiber, felt is known for its excellent insulation and sound absorption properties.
Cork – Got allergies? Cork is notable for its hypoallergenic properties. It keeps mildew and mold at bay. And like felt and rubber, it's eco-friendly.
Foam – This goes well with plywood flooring and is known for its affordability.
Particleboard – Usually ½ inch thick, particleboard has a smooth surface and attaches well to adhesives. However, it's a brittle material, which might need to be installed alongside a strong subfloor.
What are the qualities to look for when buying a flooring underlayment?
Vinyl flooring might be durable and elegant. But it also tends to be noisy, which calls the need to find the best underlayment for vinyl plank flooring. When shopping for one, choose a type or product with these qualities:
Heat insulation – It can be a nightmare to walk barefoot on a cold floor during the winter. But you can actually avoid this by choosing an underlayment with good heat insulation.
Vapor and moisture protection – This feature comes in handy if you're living in a flood-prone area. This also provides ample protection against water soaking into the floor during the winter.
Feet cushioning – Underlayment makes the floor easier to walk on, especially for the elderly with mobility challenges and toddlers.
Sound insulation – In a gist, underlayment is the padding between the floor and subfloor. It minimizes the sound the two structural components make as a person walks on the floor.
Wear resistance – Constant friction between the subfloor, floor, and feet could lead to signs of structural wear and tear. However, an underlayment serves as padding that buffers the friction.
Anti-microbial properties – This feature ensures you won't have to spend too much on maintenance and repair due to the presence of mildew and mold. You can also expect less odor and stain. Plus, this helps you prevent diseases and allergies due to microbes in the flooring.
Clean and safe for indoor air quality – This feature helps you keep yourself, your family, and pets from the headache-inducing smell of the underlayment. Remember, check the label of the product and see if it doesn't give off a smelly off-gas.
Easy to install – You can save a lot on the labor cost for the installation if the underlayment material itself is easy to set up.
Thickness – Choose an underlayment that's thick enough to cover the uneven areas of the subfloor. This gives the floor a seamless and smooth finish, which significantly improves the navigability of your interior.
Passed compression set testing – A compression testing lets you know the weight and pressure capacity of the underlayment. And this is important to help you manage foot traffic.
Minimize subfloor imperfections – Most subfloors don't have a consistent level and smooth surface. And you could compensate this with a suitable underlayment material.
Cost – Before you even buy an underlayment, set your budget for the material. Consult a flooring expert to help you come up with a realistic price range.
Sound Ratings – This comes in two types – Sound Transmission Loss (STL) and Impact Sound Transmission Test (IIC). The former refers to how well it absorbs noise from TV and people, while the latter refers to its capacity in reducing the sound of footsteps and moving furniture.
Common causes of problems with underlayment for vinyl plank flooring
Installing underlayment for vinyl plank flooring could boost your quality of life at home. But it could also cause inconveniences if you've chosen a sub-standard material and if it's installed properly.
Poor installation – Poorly installed underlayment causes floor cupping, wherein certain portions of the flooring absorb too much moisture than the other areas. This happens if the vinyl is installed when the subfloor or underlayment is still too wet. The uneven surface that it creates may cause slip and trip injuries. Dehumidifying and removing the moisture source could solve this problem.
Poor quality – By installing an underlayment, you're expecting to enjoy a quiet indoor environment. But that's not going to happen if you choose a sub-par material. Instead, you'll still hear annoying noises (e.g., heavy footsteps, the thud of falling objects).
How thick should an underlayment be for vinyl flooring?
Most experts would suggest that underlayments with 2 mm to 3 mm thickness is enough. It's also highly advisable to choose a thicker material if you'd like to have a carpeted floor. Thinner flooring materials may also do better with thinner underlayment.
It's also practical to think about more important factors first, especially the sound and moisture absorption properties, before deciding on the thickness. Some products might not be thick, but they have the best features you need.
How to install underlayment for vinyl plank floors?
Ready for the installation? Just follow these steps to get started to avoid making the common mistakes in setting up vinyl plank and underlayment:
Prepare your tools. You'll need a tape, utility knife, hammer, vacuum (or broom and dustpan), the underlayment material, and the vinyl flooring.
Inspect the subfloor. Check the subfloor for any protrusions, moisture, cracks, holes, and moisture. These are major structural concerns that need to be resolved first before setting up the underlayment. Get rid of the debris and dust.
Unroll the underlayment. Roll out the strip along the wall. Then, make sure that the edges don't overlap. For materials with adhesive strips, set up the sticky edge along the wall.
Take measurements, cut the material, and adhere. Set up the roll of underlayment one at a time. And start adhering the first one next to the wall. Make sure that the rows don't overlap.
Install. Refer to the manufacturer's manual before setting up the vinyl flooring on top of the underlayment. Some makers recommend that it's best to install two rows of underlayment first. Then, install the vinyl on the first row. Proceed to setting up the third underlayment row, which should be followed by another vinyl set up on the second underlayment row. But for best results, always refer to the manufacturer's installation manual or hire a professional.
Yes, you could definitely do this project yourself. But remember that poor installation could mean costly repairs and frequent maintenance. Add to that the fact that it could make the floor uneven, making your loved ones prone to slip and trip injuries.