What flooring is best for bathrooms?
Are you curious about what flooring to use in a bathroom? Bathroom floors need to be meticulously chosen because they are a part of the space that is directly in contact with water and where we step into after bathing. So, it is important to choose the right material for your flooring and observe some important guidelines when doing so.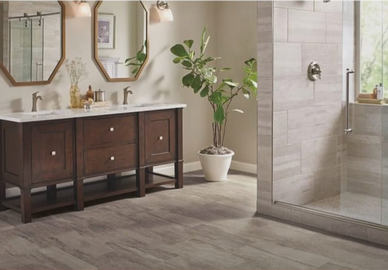 # Factors when choosing a bathroom flooring
1. Moisture resistant – bathroom floors are one of the places where moisture is most likely to make its presence felt. Keeping that in mind, you must choose a bathroom flooring material that would not be easily damaged by moisture.
2. Hardness – when choosing bathroom flooring, it is important that it is hard-wearing so that it can hold up well against the various hazards of using a bathroom like dropped make-up bottles, hairdryer, or wet bottoms of feet.
3. Practicality – since bathrooms are rarely used for just bathing, choosing durable and practical bathroom flooring is important. Most people prefer to make their bathrooms multifunctional. Many use their bathroom as a dressing room so you must choose versatile flooring for your bathroom.
4. Durability – it is important that you choose a durable bathroom flooring material. For this, look for materials that can hold up against wear and tear.
5. Safety – it is important that you choose bathroom flooring that provides a safe footing to walk on. There are many bathroom flooring options available, but you need to choose one that has slip resistance built into the material so that it can provide a comfortable walking surface even when wet or with bare feet.
# So what flooring is best for bathrooms?
Porcelain Tile
Porcelain is the best type of flooring for bathrooms. Here's why.
Porcelain is inexpensive and durable, resists fading, scratches, and stains. It also has classic patterns that are waterproof when installed correctly. Like stone, porcelain tile can achieve a high-end look when mixed with natural materials like wood or bamboo. Some porcelain tiles can also be customized to a unique bathroom floor color if extra care is taken while installing them.
Like vinyl, it is an excellent product that is resilient to daily wear and tear and also water resistant. Porcelain tile is also relatively cheaper while resembling the look of pricier materials such as wood or stone.
But we will let you be the judge.
This guide includes other bathroom flooring options you can consider apart from porcelain tile if you're not convinced.
Ceramic Tile
Ceramic tile is a popular type of flooring choice for bathrooms because of its versatility, durability, and high moisture resistance. One key selling point of ceramic tiles is that they are made from natural materials such as clay.
Although they are less costly than natural stone tiles, ceramic tiles come in an array of styles so you can make them your own. Due to their porous nature, however, ceramic tiles need extra care when cleaning them to prevent the growth of mold and mildew.
Natural Stone
Natural stone tiles are a sustainable option for bathroom flooring. Natural stone tiles come in many shades, are relatively affordable, and can be installed easily.
Natural stone is a gravel that has been heated and cooled in a kiln to retain its shape. The surface of natural stone is smooth, making it less porous than ceramics, so the natural stone is considered more durable. But it is also a relatively more expensive flooring option than porcelain and ceramic tiles.
Vinyl
Vinyl is a type of tile that is a durable and low-maintenance product. It is also relatively inexpensive and comparatively easy to install. Vinyl tiles are also relatively easy to clean as they can withstand the effects of soaps and detergents. But they are not too skid-resistant which is ideal for bathroom floors where you can slide around furniture or wear slippers.
Can you use vinyl flooring on bathroom walls? Yes, you can, however, one of the drawbacks of using vinyl tiles on a wall is that they are very heavy so they can't be installed easily without compromising the integrity of your wall.
Laminate
Can you use laminate flooring in a bathroom? The answer is yes!
Laminate flooring is moisture-resistant and has a waterproof backing. It is also durable and easy to clean, but it tends to dent and scratch when pressure is applied. Although laminate flooring is generally quite affordable, it is not as environmentally friendly as other bathroom flooring options. Choosing a laminate floor for your bathroom may also come with the risk of it being slippery, especially if you have kids and pets.
Wood
Wooden floors provide a warm, cozy nuance that many people prefer. Although wood is considered a little expensive, the durability of wood is highly praised in bathrooms and it has the advantage of being relatively resistant to moisture and other adverse weather conditions.
But wood flooring is also more susceptible to scratches, so be aware not to scratch the floor with sharp objects like nails and screws.
Concrete
Concrete is a low-maintenance solution for bathrooms which makes it one of the most popular choices available. There are many different types you can choose from, including polished, epoxy, screed, and acid-stained concrete. Having some knowledge about concrete is important to ensure your bathroom flooring functions as intended and lasts a long time.
While you can install conventional tile over concrete floors, installing tile over an existing floor requires meticulous preparation to prevent movement of the concrete when the floor is wet. This usually involves the use of a thin, adhesive membrane that keeps tiles from cracking when the concrete floor expands and shrinks due to moisture.
Linoleum
Linoleum flooring is a relatively inexpensive alternative that is also easy to maintain. It has many advantages over other bathroom flooring options because it can be cleaned with hot water and soap alone. Linoleum is also easy to cut and install.
But linoleum floors are not stain-resistant, are prone to staining, and wear out quickly.
Cork Tile
Cork flooring is an eco-friendly alternative to natural stone tiles. It is an absorbent and durable material that allows its users to walk on it barefoot. Cork flooring is also resistant to fire, moisture, and scratches.
It also has a porous texture which makes it easier for dirt to get into the cracks of the product. Also, cork tends to trap water in its crevices, resulting in mold growth in damp climate settings.
# Conclusion
We hope this guide has helped you in your search for the best bathroom flooring option. Remember to always take into account what will provide the best value and last the longest while remaining comfortable, attractive, and resistant to daily wear.