Pet owners guide: What flooring is best for dogs
Dog owners want to do what's best for their furry friends, but picking out the right flooring for his or her home can be difficult. Dogs are rambunctious, and their nails can leave scratches.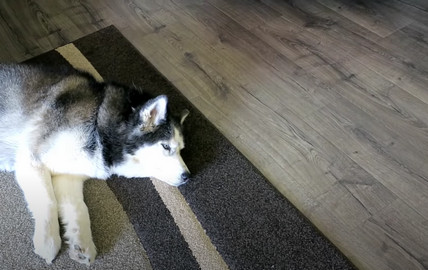 Key Takeaways

The best flooring for dogs should be waterproof, stain-resistant, odor-resistant, scratch-resistant, non-slip, easy to clean, hypo-allergenic, and comfortable for the pet.
Bamboo flooring is a good option for dogs due to its durability, stain and scratch resistance, and it's a natural product that won't cause allergic reactions.
Concrete flooring is non-absorbent, durable, and helps naturally grind your dog's claws to an ideal length, but it can be hard and cold underfoot.
Engineered hardwood flooring is durable, can last for many years, and many types are waterproof and stain-resistant.
Avoid carpet flooring if you have young or very old dogs as they can easily tear the threads and the carpet can get stained easily.
No matter how dogs are potty-trained, pet accidents can happen that will cause staining and odors that will be too hard to remove. In addition, dog hair shedding means floors will require thorough and regular cleaning.
Unless you plan to move your dog to an outside kennel, the best flooring for dogs will need to stand up to your dog's activities and clean up easily. The following guide outlines the different types of flooring, their ease of maintenance, and how they might affect your dog's health.
Things to consider when choosing pet-friendly flooring
If you want to buy a specific type of flooring, it's important to know what flooring is best for dogs and will best accommodate their needs. Many types of flooring are made specifically for dogs.
Here are the eight most important considerations:
1. Waterproof
Dogs are curious and eager to explore. This can mean the floor can become wet from their paw prints or puddles of liquid. A waterproof floor is ideal for keeping your pet safe and clean since it will not absorb water or stains on the floor.
2. Stain-resistant
You may also want to look for stain-resistant flooring. This can be particularly important for those pets who are incontinent. Some pet owners have experienced stains from wet paws and puppy accidents in the home on the flooring.
3. Odor-resistant
Dogs sometimes urinate in their home and this can cause new stains or odors to form on the floor. Look for flooring that is designed to resist stains and odors.
4. Scratch-resistant
Flooring can be scratched by your pup's nails or paw pads, so you want to choose a type of flooring that will not show damage easily. Some dog owners choose flooring made of a soft material or a texture that is forgiving to scratching.
5. Non-slip
Dogs are known to be rambunctious. They may suddenly start playing or running when in the home, causing them to trip and fall and cause a mess inside the house. Non-slip flooring can help keep dogs safe by preventing slips and falls.
6. Easy to clean
Choosing a type of flooring that is easy to clean is ideal. Pet hair often embeds inside the carpeting and can be hard to remove. You want to look for either a hard floor or easy to sweep and vacuums.
7. Hypo-allergenic
If your dog has sensitive skin, you may want to choose anti-allergenic flooring. Many types of flooring are made from natural resin, which will not be irritating to your pet's skin. Choose flooring that offers a safe and clean living environment for your dog.
8. Comfortable
Comfort is an important consideration, especially for older dogs. Some dog owners choose a soft or thick type of flooring for their pets. Soft floors are perfect for those dogs that may be arthritic and need a soft surface to rest on.
6 Most dog-friendly flooring options
1. Bamboo Flooring
Bamboo flooring is a great option for dogs because it is a soft floor which can withstand high activity levels. It's also a natural product, so the floor will not cause any allergic reactions in your dog. Bamboo floors are durable, stain, and scratch-resistant, so you don't need to worry about your dog ruining the floors. There are also many different colors to choose from.
When choosing bamboo flooring for dogs choose strand woven type. It is believed to be twice as durable as red oak. Avoid using carbonized bamboo strand as it is weaker and more likely to scratch and bend compared to lighter bamboo strands.
2. Concrete
Concrete works as a good flooring for dogs because it is non-absorbent, which means it won't soak in urine or other liquids that your dog may accidentally step in. It is durable from wear and tear, so you don't need to replace it for a long time.
As an additional advantage, concrete flooring often helps grind your dog's claws to shorten them naturally to an ideal length. The only disadvantage is that concrete floors are not the most visually appealing flooring for a home. It is also unforgiving when it comes to falls, as they are hard and quite cold underfoot, especially during cooler climates.
3. Engineered Hardwood
Engineered hardwood flooring is an excellent choice because it is durable. It can last for many years, even with heavy traffic and pets. Many types of engineered Hardwood floors are waterproof and stain-resistant. This means that your dog will not be able to cause stains or scratches on the floor.
Which wood flooring is best for dogs?
Many types of engineered wood are suitable for pets and can withstand high traffic levels. There are three main kinds of engineered hardwood floors:
Pine: Hard but warm and can look great in a home.
Red Oak: A hardwood great for activity.
Hickory: Hardwood flooring made from reclaimed wood.
White Oak: Hard, durable, and great for pets.
4. Vinyl Flooring
Most vinyl flooring are water-resistant which makes this an excellent option for dog flooring. However, some low-quality Luxury vinyl plank flooring may not be as resistant to water damage especially when water sits too long on the floor.
When choosing vinyl flooring, go for the higher-end with a thick wear layer, so it is more durable and resistant to both stain and scratch. Lower-quality LVP may peel, crack, or dent easier than high-quality ones.
5. Laminate Flooring
Laminate flooring is one of the most cost-effective options for your dog's flooring. It is also a popular choice because it is low-maintenance and can be easy to clean. Laminate floors are typically hard-wearing and damage-resistant. Although not a typical choice for homes with frequent pet accidents, there are waterproof laminate options that are manufactured recently that will solve this issue.
Which laminate flooring is best for dogs?
Avoid the ones with a glossy finish, which can be a bit slippery for dogs and they will probably leave scratches on them. Choose instead a matte, scraped, or textured surface that won't easily get scratched and is commonly more resistant to slips.
6. Stone Flooring
Stone flooring is a great option because it is low maintenance and does not require regular cleaning. With stone flooring, you don't have to worry about scratching or staining since this type of flooring option is most forgiving.
The only concern when choosing stone flooring is the type of stone you choose to use. In general, avoid porous rocks as they can absorb liquids and stains from your dog. The surface is also hard and cold and may not be comfortable underfoot for your dogs
Avoid carpet flooring
If you have young dogs or very old dogs, you will want to avoid carpets since they are made of threads and can be easily torn by the dog's claws. Carpets can also get stained easily and may not be suitable flooring for pets. However, if you still prefer to use carpets, you can always have them professionally cleaned to remove stains and odor.
Dogs can be messy creatures, so it's important to invest in a quality rug or floor mat. Throw rugs and mats are great for covering stains and spills that may occur from your dog. They will also keep your flooring protected from high foot traffic.
Ways to maintain your dog-friendly floors
1. Vacuuming
Pet hair is one of the biggest challenges of dog-friendly flooring, so vacuuming is a must. Check your vacuum for pet hair remover by reading the label and using it accordingly. Some vacuums are designed specifically for pet hair and may have more powerful brushes. However, the less you use your vacuum, the better it will work.
2. Professional Cleaning
Carpets are hard to clean by hand alone, so you need professional help. A good pet-friendly carpet cleaning solution clean and remove stains in your carpet that are not visible.
3. Traction Mats
Traction mats are a popular choice for dog owners who want to keep the traction on their dogs' paws while they are walking. They will also protect the floor from dog paw prints, which can cause scratches and small holes.
4. Baking Soda
Baking soda is an excellent solution for deodorizing pet urine. It will absorb the odor and can be used in carpets, rugs, as well as flooring. For removing stains, mix baking soda with water and apply directly to the stain. Let it sit for 20 minutes, then vacuum up the area.
5. Vacuum Extender
Get a longer vacuum hose, so you can reach hard-to-clean areas like under your furniture and close to your walls. Telescoping vacuum extenders are also a good long-term investment.
Final thoughts on floor for dogs
While there are many options for pet floors, the best flooring for pets depends on your needs and your pet's needs. Many times, homeowners will choose different types of flooring to use throughout the home. It is important to pick the right options for your pets, particularly for a dog.
When picking flooring for dogs, consider the benefits and obtainable options that will fit your needs.