Is bamboo flooring good for your kitchen?
Bamboo flooring can be a great hardwood option for your kitchen, but it's important to take certain factors into consideration. Proper sealing, ventilation, and maintenance are key to ensuring that your bamboo floors stay in good condition.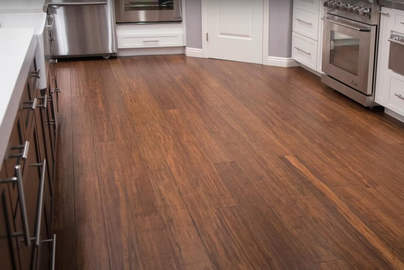 Depending on the type of bamboo, it can be an awesome hardwood floor option since this type of wood floor has many advantages.
But there are certain things to take into consideration when installing bamboo flooring in any type of room, especially in a kitchen where you will want to keep it as clean as possible.
Here are a few questions that you may want to ask yourself before installing bamboo flooring or for any flooring materials:
What types of shoes am I wearing? If you're not sure, make sure that your floors can withstand any type of shoe; and
What is my space like? Is this area well ventilated or does it have a lot of food items present which could produce odors?
How often do I clean my floors?
There are definitely more important questions to ask before you decide to invest in bamboo flooring for your kitchen. Keep in mind that you can find many hardwood flooring options and materials and each one is not necessarily right for your home or kitchen.
Considerations before choosing bamboo kitchen flooring
Bamboo floors that are sealed will resist moisture; if not, moisture can cause mold and mildew. Also, the flooring will endure high traffic areas better when it's sealed with a varnish or polyurethane. If you don't seal your floor, it will end up looking very worn out with time.
You'll want to make sure that your flooring is not installed over a concrete slab.
It can be slippery when it becomes wet, and you'll want to place a mat under your sink or anywhere else where your flooring becomes wet. Even if you don't see water, it will break down the wood and cause mold.
Heat will cause the color of the bamboo to fade.
The boards can become warped when exposed to high humidity environments.
You should use good quality wood glue when attaching the flooring to your sub-floor. It's easier to install, and it won't leach.
The boards are not completely waterproof, and you'll want to have this peace of mind when you walk on them. If your flooring gets wet, it will warp and crack.
Fresh bamboo is flammable, and you'll want to store anything with or made of bamboo in a dry place.
So, is bamboo flooring good for the kitchen?
Yes, it is possible if the bamboo is treated with a proper sealing agent to create a top protective layer that can easily be cleaned.
Untreated bamboo, left in its natural state, doesn't have much chance of lasting long in the kitchen especially when it regularly comes in contact with liquids. Moisture or liquids can seep into the surface of bamboo floor planks which can cause mold growth or staining.
Bamboo flooring is very popular but it's not really that good for kitchens unless you take all the necessary precautions to prevent water damage and if you choose the right bamboo materials.
As mentioned above, whenever bamboo floors are installed in a kitchen, the top of the floor is often left bare to allow for scratches or accidents. The result is that there are several small holes where food drops through. This, in turn, creates a large number of food particles that get easily and quickly attracted to moisture, giving them the opportunity to grow into mold.
Bamboo floors absorb odors too: they retain the smell of cooking and food particles from the floor which is then spread throughout the whole kitchen.
If you don't clean your bamboo floors properly, they'll end up looking very worn out and will be less attractive to look at as is with the case with all types of wood.
Choosing a bamboo flooring style
There are three types of bamboo that may be suitable for bamboo kitchen flooring: solid, engineered, and strand-woven. Each has its own advantages based on its manufacturing process.
Solid Bamboo
– Has a natural bamboo look with a beautiful aesthetic
– Installation is more labor-intensive with solid bamboo
– Can be sanded down and refinished
– Takes extra care to clean up spills quickly to avoid moisture exposure
Engineered Bamboo
– Affordable choice with luxurious appeal
– Manufactured with a thin layer of bamboo over an engineered bamboo material
– Moisture resistant
– Cannot be sanded down or re-stained
– Can last for years with proper care
Strand-Woven Bamboo
– Made from weaving bamboo fibers at a 90-degree angle
– Extremely durable and as strong as oak
– Can be sanded down and refinished
– Perfect for busy households
– Most environmentally friendly among the three
Choosing a bamboo color option
When you shop for a new bamboo floor for your kitchen, you will want to be able to choose from a variety of colors and styles. Here are three primary options:
Natural Bamboo
Stained Bamboo
– Comes in a variety of colors
– Can be translucent or opaque
Carbonized Bamboo
– Pressure heated
– Caramel to brown color
– Produces warm color or darker color without staining
Bamboo kitchen flooring maintenance
Bamboo kitchen floors have a reputation for being hard to maintain, but if you are committed to keeping them in good condition, they can last 20 years or more. The key is a regular routine of maintenance and protecting it.
To keep small dust and debris particles at a minimum, sweep your floor daily with a soft brush, broom, or microfiber mop. The best way to remove stubborn stains from hardwood floors is to use the correct products designed for this type of surface.
Steam cleaners are not appropriate for bamboo flooring. A vacuum with hardwood attachments should be used instead.
To avoid damaging bamboo floors, refrain from using waxes, oils, or abrasive products.
With regular heavy foot traffic, it is inevitable that some of the bamboo floors will be damaged and become less appealing over time. A bamboo floor will wear down over time especially with constant water exposure in the kitchen.
The good news is that you can sand, refinish, and revive your floor by sanding and refinishing. After sanding, apply a new finish to your bamboo floor to make it look as sparkling as new.
Final thoughts
Although bamboo is an environmentally friendly hardwood flooring option, in conclusion, bamboo floors are not the ideal flooring for kitchens if you want to leave them in their natural state. They absorb moisture and odors, and they look worn out very quickly.
It also doesn't have a good load-bearing capacity and lacks the anti-slip properties which are needed in kitchens. However, if you're set on adding bamboo flooring for your kitchen, simply follow the tips on this guide.