Most durable hardwood flooring
You've decided on hardwood flooring after going through several options, but then you need to choose which type of wood. It makes sense to choose the most durable wood flooring that is worth its cost for a long time.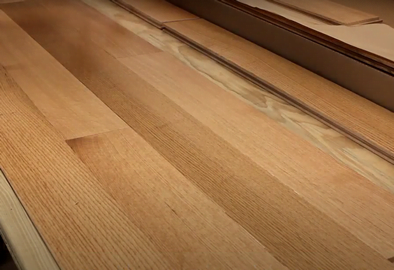 This is most necessary when you have children or pets at home. Your wood flooring will need to stand up to years of wear and tear. So what are your options?
Don't worry, this guide will walk you through different wood species and finish to help you determine the most durable hardwood flooring for your home.
# Engineered vs Solid wood
The first step in choosing the most durable hardwood flooring is to figure out what kind is right for your project: solid or engineered.
Engineered wood flooring combines multiple layers of wood together. While it's not exactly like real hardwood, it has the same look and feel like solid wood and is much more durable and easier to install. It works well for high traffic areas since it resists scratches, stains, dents, and moisture damage.
Solid wood flooring is specifically made to be of one type of wood, just like real hardwood. It is usually made of wood species such as oak, maple, or walnut. It's a more traditional flooring solution that adds depth and warmth to your home.
Both have good resistance to heat but engineered hardwood slightly performs better in humid locations especially over a concrete subfloor. Solid hardwood could last anywhere between 80 to 100 years, while engineered hardwood, if well taken cared of, will last for at least 50 years.
# Janka Hardness Scale
Janka hardness scale is a rating system for the hardness of wood and how easy it is to cut. It's used in measuring the hardness of wood. The higher the Janka rating is, the harder or more durable will be your hardwood flooring.
# Most durable wood flooring options
Now that you've decided between solid or engineered hardwood flooring, it's time to choose the best wood species for your project. Here are some great options to choose from.
1. Oak
The durability of oak wood depends on its subspecies. For example, white okay has a Janka hardness of 1,360 while red oak measures 1,290 on the Janka scale. White oak is a dense and versatile wood with various grain patterns from simple to dramatic swirls.
On the other hand, red oak has more deep warm tones that offer a welcoming feeling but can be stained to get the desired look. It accounts for almost half of the hardwood trees which makes its cost more reasonable than others. Red oak can also be refinished to look new even after years of service.
2. Hickory
The hickory wood species is harder than oak, ash, and maple with a Janka hardness of 1820. It is one of the most durable hardwood floors available that is often rival that of steel. It's durable and lasts a long time. Its surface durability can withstand the damage from high foot traffic and moisture. It is a light wood that can be enhanced for a warmer appearance using stains. Waxing hickory wood can further improve its moisture resistance.
3. Santos Mahogany
Santos mahogany is not true mahogany but can have a mahogany-like appearance. However, it is relatively denser, harder, and stronger than real mahogany that is often hard to cut, even with a machine. It has a very low rot resistance, especially from insect attacks. It has a rating of 2200 on the Janka scale. Applying finish may prove difficult because of the wood's oily residue.
4. Maple
Maple is a popular choice for contemporary homes because of its light and open grain pattern and its durability. It is also readily available in different colors such as beige, red, brown, and chromatic gray. It can also be stained using stain or dye. When it comes to durability, hard maple (sugar maple) measures 1,450 which is higher than white oak and ash.
5. Ebony
Brazilian ebony is super strong and dense that the wood actually sinks in water. Measuring 3,700 on the Janka hardness scale, ebony is resistant to scratches, scrapes and is very difficult to cut that it will be difficult to find a contractor that will work with it. Real ebony color and tone range from very dark brown to black.
6. Teak
Teak is one of the hardest species of wood and is highly resistant to scratches, dents, and other damage caused by high foot traffic and daily wear and tear. It has naturally rich oils which give it a natural shine without the need for sealers and other treatments. It has a rating of 1,155 on the Janka scale.
7. Cumaru (Brazilian Teak)
Cumaru has a Janka hardness of 3,540. It is harder than Red Oak and Santos Mahogany which means it brings with it the common difficulty of cutting. It has a rich and consistent color of reddish-brown, just like champagne. Brazilian teak is also very heavy, weighing over 3 pounds per square foot, which adds to the challenge of installation.
8. Ash
Ash is a very durable wood flooring that measures 1,320 on the Janka hardness scale. Although not as popular, it is right up there with Red oak (1,290) and White oak (1,360) and is great for houses with pets and children. Ash hardwood has lighter and more neutral tones and can range from creamy blonde to deep brown which gives it a lot of character.
9. Jatoba (Brazilian Cherry)
Jatoba, commonly called Brazilian Cherry, is a popular exotic wood flooring that delivers superior performance. It has a high Janka rating of 2,350 and is highly resistant to termites which gives it a long lifespan. However, it is also known to be stain resistant so most often homeowners settle for its natural color. Jatoba has a deep tone ranging from golden to rusty.
10. Goncalo Alves (Tigerwood)
Goncalo Alves (Tigerwood) has a Janka hardness of 1,850. It is among the harder and more durable wood. In fact, it is 70% harder than red oak. Tigerwood is famous for its color variation. When first cut, the color ranges from russet brown to reddish-brown, but after exposure, the wood turns dark reddish-brown with stripes becoming nearly black.
11. Bamboo
Bamboo has an average Janka hardness of 1,380 since its rating often varies depending on the process and chemicals used to produce its coloring (carmelized or carbonized). Bamboo in its natural state is pale yellow in color, while it comes brownish yellow after it is carbonized. This wood species is popular among homes that prefer eco-friendly and sustainable flooring since it is easily replanted and grows quickly.
12. Ipe (Brazilian walnut)
Ipe, commonly known as Brazilian walnut, is incredibly hard with a Janka hardness rating of 3,684. It is the hardest wood species on this list and is well known for its extreme hardness, strength, weight, and density, making it one of the most durable hardwood flooring. Because of its hardness, it is moderately difficult to cut and work with using hand tools. This type of wood flooring is commonly installed in industrial environments.
# Final Thoughts
Despite each wood species having its pros and cons, it is up to the homeowner to choose what will work best for their home. The selection of the right hardwood floor for your home is really about figuring out what you truly need from the flooring. If you have kids and pets, you should opt for hardwood flooring that won't easily get scratched or damaged when they are running around the house.
If you want to install your hardwood floor yourself, it is best to pick a wood that is easy to work with (light and easy to cut) and doesn't require a lot of tools.
If you are placing your hardwood floor in high-traffic areas, it is best to choose options that have good resistance to stains and moisture.
Since all hardwood floors are expensive, it is also best to choose a material that can withstand a lot of abuse without showing too much damage. Most importantly, you have to consider your budget and pick something that won't break the bank.
Remember that not all trees are created equal. You might find some that are harder than others or softer than others and their prices will vary accordingly. Always go with the grain and make sure you have found something that works for you.